Sister Lake, the wife of a counselor in our mission presidency. I think she looks so much like Grandma Houghton :)
Dear family,
My granddaughter Sister Lightheart! (+Sister Smaellie and I)
I knew as soon as I saw her that she would be
Sister Smaellie's trainee :) Isn't she adorable?
Somehow the fact that we now have 90 minutes to email gives me less time to get the general email out, because I have more time to send little reply emails! Sorry about that...
We had transfers this week and my new companion is the amazing Sister Orton. I have now been companions with three people who came in at the same time as Sister Smaellie! (including Sister Smaellie herself of course :) Sisters Hansen and Vaioleti stayed in Miami Shores North and Sister Albrecht went up to Palm Beach North, the English area that covers my first area of West Palm North.
Sister Orton is 21, the third child of four, and just came from being in Palm Beach North. She is super-kind and an awesome, obedient missionary. I am excited to work with her!
In other transfer news, I neglected to get a picture with her but there is a new sister in our mission, Sister Hunter, who is from Manteca, CA! That makes 3 missionaries in our mission from schools that play water polo or swim with Sonora - Tracy, Modesto, and Manteca :) Also, Elder Marshall is now in one of the Spanish areas covering part of our area, and my new zone leader is Elder Doria, who was in my district in West Palm all four transfers I was there.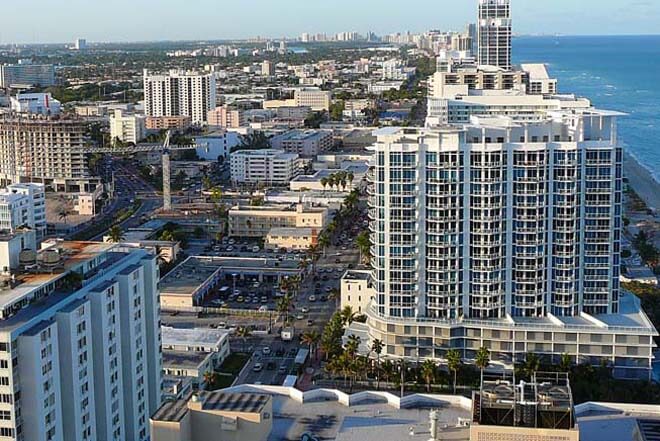 Some North Miami Beach housing. . . .
NOT Hermana Houghton's
I have been informed that I have neglected to tell you about our housing here in Miami Beach English. We actually live in the city of North Miami Beach, which is on the mainland, not Miami Beach (the island), which is very confusing. Our house is a little yellow beach shack with insulation-free walls and tile floors (good thing it's Florida!). There are three bedrooms (one for each companionship + we get a study room while they study in the living room) and two bathrooms, but only one shower. That makes life interesting when we all have the same schedule to get a shower in! We live about 10-15 minutes from the beach.
We have an amazing branch. During the third hour yesterday we had a combined meeting and went over the ward list picking out less-actives we will visit during the 2nd and 3rd hours
next Sunday
. The energy and spirit in the room was incredible! Afterward we had a branch linger longer and built up some branch unity. Also our new ward clerk made all my fondest dreams come true. We now have a directory with birth dates, family information, and priesthood ordination, and lists of children of record and recent converts of the last two years... I love having information!
One of the long-time members, who actually is the wife of the original branch president of the Miami Shores branch (back in 1991 it split from the Hialeah ward), shared her testimony in fast-and-testimony meeting. One thing she said really stuck with me - "if we build it, they will come." We have been having a really hard time getting people to sacrament meeting. But as we are working to build up the ward (less-active work, helping out in service - we will be helping clean the chapel every
Saturday
this next month, assisting auxiliary leaders, etc.), they will come!
We have some amazing people right now. I told you last week about E. She is progressing and learning and loving it. She will be baptized this
coming Sunday
.
In addition, we got an amazing referral from some elders down south
on Friday
. We visited D and his desires to be part of a church and really come closer to God for his family (he is recently divorced and doesn't get to see his baby daughter often but really takes care of his sisters and nieces and nephews) were amazing. He told us he would be at church, no maybes about it. We stopped by the next morning and his niece told us he had already left. We were so excited. But he never showed up at church. We stopped by
on Sunday
night and D told us that his boss had called that morning and asked if he was available to work. He had been worried that he would be seen as unreliable if he said no, so he told his boss he would come in. Near the end of the day he had been feeling bad about it and mentioned to his boss that he really should have gone to church. His boss told him it wouldn't have been a problem. D got to thinking that maybe it had been a test from God, and he had failed. He told us that he wasn't going to fail a test like that ever again. So cool!
I love the people, and the work, and the message, and most of all the fact that IT'S ALL TRUE!!
I love you all! Send me mail please? (I did LOVE the Valentine's messages, btw. So cute, and so thoughtful.)
<3
HH
With the Villetas at the adult session of stake conference!!
2.
3.