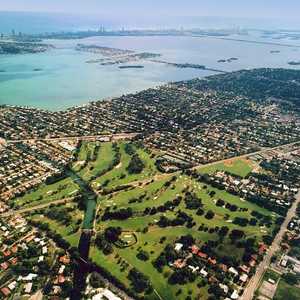 Miami Shores Country Club
Greenie-breaking Sister Albrecht. Opening up a new branch beginning in January. Still the only white people around, but this time no Spanish!
Real email to follow shortly :)
Dear Family,
I already told you the important stuff... :) And hey, no more cockroaches! I haven't seen one in the house yet, and that is true luxury. I really really miss Sister Ware, and Hialeah, but I'm adjusting. Teaching in English isn't as much of a change as I might have thought, but I am still very excited when I meet people who speak Spanish! I absolutely love the people, and the different cultures continue to be fun.
Sister Albrecht is from Orange County and is number 7 out of 10. She turns 23 on
January 2
. This is her third transfer and I am her second companion.
We are in the Miami Shores Ward right now, in the South area, but as of
January 1
we will be part of a new branch, as yet unnamed as far as we know. We will be meeting at
6950 Indian Creek Drive in Miami Beach, FL
. I hear the chapel is really beautiful and right on the beach, so you should look it up on google maps!
We are teaching lots of cool people right now.
J had asked for a Book of Mormon from
mormon.org
because he was looking for answers about God. He almost cried when we gave him the Book of Mormon and he invited himself to baptism in our first lesson before we even got to it. He always asks us for more commitments, because we told him the purpose of commitments and he wants to act and grow and prepare as much and as quickly as he can. He tells us all the time about how God prepared him to receive the gospel, and he recognizes the truth we learn in Alma 37:6-7, that it is by small and simple means that God works and that our testimonies grow. It is amazing to see how little of this work is actually on us. The Lord truly prepares people. We have seen many of this kind of miracles this week, and I feel like the Lord is blessing us as we are working to build up a new branch.
Our lovely B has two adorable little kids, ages 3 and 2. She asked God for a sign the first time she went to church - she told him that if her kids were quiet and calm she would stay, and accept that as an answer from Him. And guess what? They were! Her experience really clarified 2 Nephi
17:11
-13 for me when I read it later on this week, as I hadn't understood it before.
K, I met for the first time yesterday. She was taught by missionaries about a year ago, but didn't really progress... and we figured out why! She has a hard time reading because she can't see well! So thank you Aunt Lisa (who sent reading glasses in my Christmas package for just such a need)! She is getting baptized!
We meet a lot of amazing people, and I really see the Lord's hand in the work.
Anyway, out of time. A few miscellaneous things/responses:
I'm glad the Volvo is getting repaired - you know her name was Flo, right? I like the name Vivaldi, but am a bit miffed that the violin culture is taking over everything.
Sad the Websters are gone!
Sorry no pics. The computers at this library don't allow it... we'll see if I can work something out next week.
Excited to talk to you on Christmas!! I'll come prepared with questions if you do :)
Love you all and MERRY CHRISTMAS!!
<3 HH